As counselors, when we venture into private practice for the first time, we make the difficult transition from technician to entrepreneur. The immensity of this transition cannot be overstated.
Learn More: Counseling Private Practice Book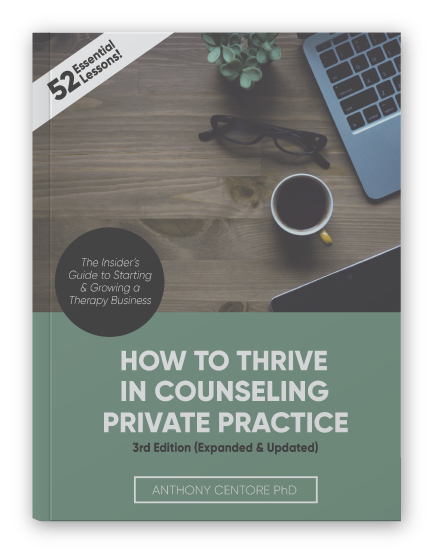 You will learn:
(1) How to build a profitable practice will little or no upfront money.
(2) How to market your practice, so that you build a full caseload quickly.
(3) How to price your services, so that you earn the money you need to live the lifestyle you want.
(4) how to… Oh heck, why don't I just show you the Table of Contents!? ….
TABLE OF CONTENTS

101: Planning a Private Practice

Lesson 1: Prelude & Introduction

Lesson 2: Should I Start a Private Practice?

Lesson 3: The Bootstrapper's Approach to Private Practice

Lesson 4: Business, Risk, and The Counselor

Lesson 5: How Much Money Can I make in Private Practice?

Lesson 6: Six Rumors About Accepting Health Insurance

 

201: Building a Private Practice

Lesson 7: A Case for Accepting Clients' Health Insurance

Lesson 8: The Do's and Don'ts of Marketing a Cash Pay Practice

Lesson 9: 17 Reasons Your Insurance Claims are Denied

Lesson 10: Fee Setting for Records Requests, Court Appearances, and More

Lesson 11: How to Specialize Your Practice

Lesson 12: Why the Life Coach is Eating the Counselor's Lunch!

Lesson 13: Creating a Counseling Office that Wows Clients

Lesson 14: Making Good First Impressions: 9 Practical Tips

301: Growing a Private Practice

Lesson 15: Forty Strategies for Building a Full Caseload

Lesson 16: Private Practice and Social Marketing

Lesson 17: How to Prevent and Manage Negative Online Reviews

Lesson 18: Improving Client Retention: 7 Ethical Strategies

Lesson 19: Protecting Client Privacy in the Electronic Age

Lesson 20: Electronic Health Records in Today's Private Counseling Practice

Lesson 21: Should I Grow my Solo Practice into a Group Practice?

401: Online Counseling – A Primer

Lesson 22: Clinical Advantages and Disadvantages of Online Counseling

Lesson 23: Online Counseling: Looking Back 10 Years

Lesson 24: What Online Counseling won't do for Your Practice

Lesson 25: How to Become an "Online Famous" Therapist

Lesson 26: Online Networking with Counseling Clients

Lesson 27: Words of Encouragement
Learn More: Counseling Private Practice Book